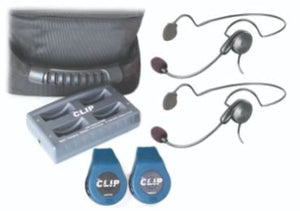 Porta Phone Clip System - Youth Football Coaches Headset System
Regular price $350.00 $320.00 Sale
The CLIP System provides hands free, full duplex communication for up to 5 people to talk simultaneously on a single channel, perfect for Youth Football programs or High Schools on a tight budget.  The core of each system is The CLIP, a miniature transceiver in a protective neoprene enclosure that can be worn on the belt or put inside a pocket.

Headsets are included with all complete CLIP systems.  These lightweight headsets feature a slender metal back band that provide discreet wearing and comfortable fit. They are great for coaches on the move because they hold firmly and are also hygienically superior to other headset styles that have speakers that are worn inside the ear.

All CLIP systems come complete and ready to use, including rechargeable batteries and a padded soft side case for convenient storage and transport. Since CLIP radios are field programmable it is easy to add users to your system at any time simply by purchasing the additional headsets and CLIP transceivers that you need.
This system may also be used as a Coach-to-Player practice system using the clip's internal speaker attached to the player's shoulder pads.  Multiple players may be coached  simultaneously.
Operates on 2.4 GHz.